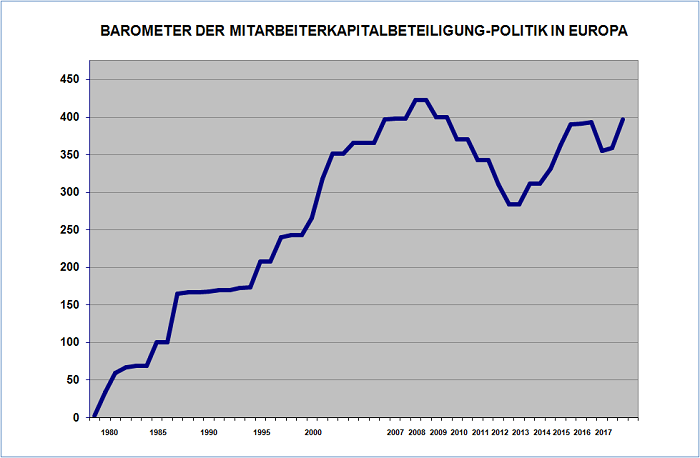 NEUE ENTWICKLUNGEN

In zwanzig europäischen Ländern wird die Mitarbeiterkapitalbeteiligung mittlerweile von Seiten der Politik aktiv unterstützt. Niemals zuvor waren es mehr.

Diese Maßnahmen zielen auf mehr und bessere Anreize für Mitarbeiterbeteiligungs-programme und bestätigen damit den positiven Trend seit 2013 in Europa.

In Österreich tritt zusätzlich zu den beiden bestehenden Förderprogramme am 1.1.2018 eine weitere Fördermaßname im Kraft, die unter bestimmten Bedingungen Mitarbeiterbeteiligungspläne bis zu einer Höhe von 4.500 € steuer- und sozialabgabenfrei stellt. In Frankreich ist ab 2018 eine Reduzierung der Arbeitgeberbeiträge zur Sozialversicherung für einige Beteiligungsvarianten vorgesehen. Neue Gesetzgebungen haben wir auch in Irland, den Niederlanden und in Schweden. Polen bereit entsprechende Fördermaßnahmen vor.

Wie alle Barometer kündigt auch dieses die Zukunft an. Unser Indikator für Mitarbeiterbeteiligung zeigt seit 2013 einen positiven Trend bei der Anzahl der Mitarbeiteraktionäre in europäischen Unternehmen. Dieser Trend hält auch derzeit an.

Das sind sehr gute Nachrichten für alle Europäer !
BACKGROUND
After increasing strongly and continuously since 1980, the number of employee shareholders in Europe was slightly declining from 2010 to 2014, before rebounding recently (See forthcoming Annual Economic Survey of Employee Share Ownership in European Countries in 2017).
The decline from 2010 to 2014 was partly due to the impact of the European financial crisis that erupted in 2008. However, the impact of the policy decisions taken in European countries was probably the most important factor.
It is known that the large-scale development of employee share ownership depends mainly on incentive policies (See Fiscal incentives are indispensable prerequisites for the development of employee share ownership, EFES, 2014). The large-scale development of employee share ownership brings better motivation, productivity, profitability, higher growth, more and better jobs. This is good for all. But it depends on policy will to initiate the virtuous circle through appropriate fiscal incentives.
A recent study showed that the balance of fiscal costs and benefits of the ESOP policy for the US federal budget in 2015 was 2 billion $ compared to 17, a gain of 15 billion $ (See The Impact of Employee Ownership and ESOPs on Layoffs and the Costs of Unemployment to the Federal Government, NCEO, 2015).
After 2008, some European countries took negative decisions, removing or decreasing fiscal incentives, which led to a decline of the number of employee shareholders. Some other European countries took the opposite way, applying new or higher incentives, which led to a higher number of employee shareholders.
In 2009-2012, France and Ireland reduced their fiscal incentives, as well as Denmark, Greece and The Netherlands, where all incentives were removed. In contrast, significant policy progress occurred in the UK in 2014-2016, as well as in Spain, in Hungary, in Austria (which doubled its fiscal support on 1.1.2016), and in Romania and Iceland.
In addition Denmark restored in July 2016 the incentives that were removed in 2011. This is typical of the recent changes in European policies: One of the first deeds of the new Danish Government in 2011 (Ms Thorning-Schmidt, socialist) was to remove all incentives. One of the first deeds of the new Danish Government in 2016 (Lars Rasmussen, conservative-liberal) was to restore them.
More recently, Norway doubled its fiscal support on 1.1.2017. Finally, Vice-Prime Minister Morawiecki announced a long-term plan in five points for the development of Poland, including employee share ownership, and a new Polish "Forum for Employee Ownership and Domestic Capital Development" was set up in April 2016.
All these policy decisions in various European countries, in a positive or a negative way, can be summarized through a single dedicated tool. This is the reason of the setting up of the EFES "Barometer of employee share ownership policies in European countries".