EFES HÍREK - 2023. MÁJUS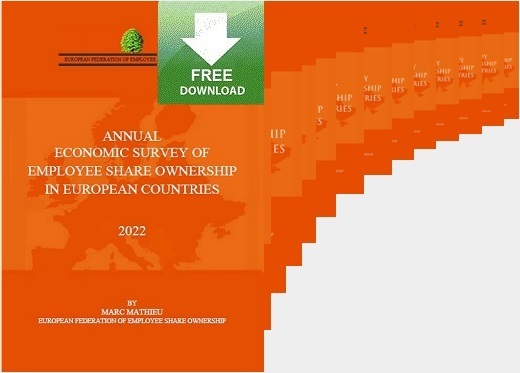 Sajtófigyelő
2023 áprilisában hónapban 32 figyelemre méltó cikket találtunk 9 országból: Kanada, Németország, Finnország, Franciaország, Magyarország, Hollandia, Norvégia, Egyesült Királyság, USA.
Canada: New policy plan for Employee Ownership Trusts provides an option in business succession planning, but not hoped-for tax incentives.
Germany: New law project – further multiplication of incentives for employee share ownership, at €5,000 exempt annually instead of €1,440.
Finland: Personnel Funds legislation now extended to small companies.
France: Congratulations from TotalEnergies. Business transmission through workers' cooperative for Ecotone. Free share awards for all employees at Medincell.
Hungary: The operation of employee share plans in Hungary.
Netherlands: Share ownership foundations operate primarily on the basis of share certification.
Norway: Employee share ownership and wealth tax.
UK: Why a business should consider an Employee-Owned Trust structure. Thanks to the Employee Ownership Trust scheme, every day a new SME is transferred to employees, - 115 new transmissions from January 1 to March 31. This month, among others, the case of: Postlethwaite Sollicitors, With Public Relations, TVD Group, KWL Architects, Bartlett Catering, RR Engineering, Absolute Public Relations, Drummond Marketing, Horizon Platforms. New crisis for John Lewis Partnership which is considering abandoning the 100% employee ownership formula.
USA: New business transfers through ESOP plans. Index Ventures is the organizer of the campaign to promote stock options for European startups.
A teljes sajtófigyelő elérhető itt:
http://www.efesonline.org/PRESS REVIEW/2023/April.htm

Újdonságok az EFES weboldalán?

EFES NEWS distribution: 200.000